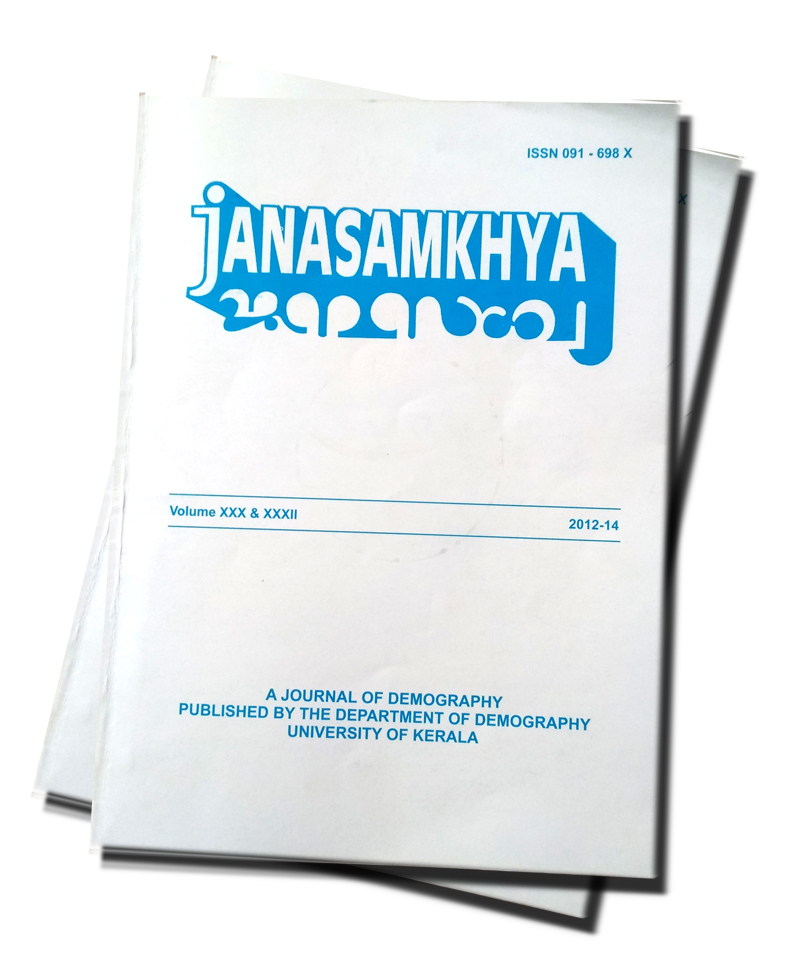 About Us
The journal JANASAMKHYA was started by the Department of Demography, University of Kerala, in the year 1983 and is published twice a year. Professor Ramakumar was the founder Editor of the journal.
This journal, over the years, has been bringingout many important research articles on population dynamics and related issues in India. Dr P. Mohanachandran Nair, Professor & Head, Department of Demography, University of Kerala, is the  Editor of the journal. Dr Anil chandran S. is the Assistant Editor. Dr Sasikala P and Dr Asha T. Chacko, Scientific Officers of the department, act as the Editorial Assistants of the journal. Professor K. Srinivasan (former Director, IIPS, Mumbai), Dr C. M. Suchindran (North Carolina University, USA), Dr. Aravind Pandey (Former Director, NIMS, New Delhi), Dr K. S. James (Director & Senior Professor, IIPS, Mumbai), Dr K. K. Singh (Professor, BHU, Varanasi), Dr P. S. Nair (Former Professor& Head, Dept. of Demography), Dr P. Sankara Sarma, Professor, Sree Chitra  Tirunal Institute of Medical Sciences and Technology, Thiruvananthapuram) and Dr Sabu Padmadas (Professor, University of Southampton, United Kingdom) are the members of the Advisory Board.
Research articles, notes and reviews on topics relating to Demography and allied areas will be considered for publication in the journal. Manuscripts in MS Word format may be sent for possible publication in the journal to the email ID janasamkhya(at)gmail(dot)com. Each article, when submitted, should be accompanied by a certificate to the effect that the work reported in the article is the bonafide original work of the author(s) and that the contents of the articles as such or any modified form have not been published or submitted elsewhere.